Welcome to Kagen no Tsuki Wiki.
The Wiki that anyone can edit.
Please look over our policies before editing.
We are currently editing over 40 articles, and 67 files since September 7, 2012.
Welcome to Kagen no Tsuki Wiki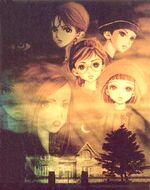 Kagen no Tsuki Wiki is a collaborative database about Ai Yazawa's manga, Kagen no Tsuki. That includes chapters, characters, and more. The wiki format allows anyone to create or edit articles, so we can all work to make a comprehensive database.

About this wiki...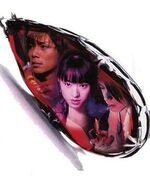 Don't know anything about how to edit? Here are some guides that can be helpful for you: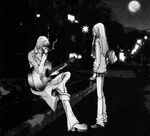 Don't know how to help or improve this wiki? Here are some links that can guide you:
Here in Kagen no Tsuki Wiki we have some rules for the users behavior and edits. Follow this small list of rules and you will have a great time here:
Foul language is not allowed under any circumstances.
Illegal content is forbidden on the Wiki.
Vandalism will result in an immediate and one week ban.
All of the pages should include real, factual content.
If the edits you make do not provide anything to the wiki, you'll be warned.
If you continue with those edits, you'll be banned.
About Kagen no Tsuki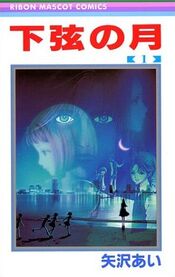 Kagen no Tsuki (下弦の月, lit. "Last Quarter of the Moon"), also known as Last Quarter, is a manga series written and illustrated by Ai Yazawa. The manga was serialized in Ribon from 1998 until 1999. Shueisha published the series into three volumes. In 2004, the series was adapted into a live-action film starring Chiaki Kuriyama, Hyde, and Tomoka Kurokawa.
The manga is a lesser known work of Ai Yazawa's. However, it gained some fame with the publication of Yazawa's Nana, which prompted the release of the film. The series was republished into two volumes to coincide with the film's release. Read more...
How to help
All pages can be edited and you are welcome to join us and contribute to this wiki. Everyone is free to create a new page or edit an existing one. If you have any questions about the wiki or helping out, you can ask one of Kagen no Tsuki Wiki's administrators.
If you are new to wikis, you may want to read the help page.
A list of all help pages can be found in .
If you want to help but you're not sure where to start, try improving the various articles by expanding them.
Another helpful activity would be to check the list of wanted pages for frequently linked-to articles that don't exist yet.
You can find a list of useful templates on .
If you want to experiment with editing a wiki, please do it in a sandbox, not in articles.
News
Kagen no Tsuki was republished in Japan on March 19th. Check out this article to read a little more about it.
Did you know?
Community content is available under
CC-BY-SA
unless otherwise noted.